archiWEB 3.0
Updated: 3 hours 23 min ago
This traditional Japanese style painting is called "Yozakura Gekka" (by Hiroshi Senju), featuring an exquisite weeping cherry tree in blossom lit by the moon light. It was for this painting that the owner wished to have a private space to admire - where he could spend his time quietly and feel the beauty of falling petals. He wanted to create simple but elegant atmosphere like luxurious hotel for his living room/study and bedroom. The building was a one-story wooden structure of 66 square meters that was build more than 40 years ago. Upon this renovation, the original main structure was kept unchanged but the west side of the house was made into a large spacious single room containing the living room/ study and the bedroom area. Storage unit between those two areas separates the room but does not close off the space, leaving openness. Kitchen and a bathroom are placed in the east side. To incorporate the owner's love for the painting and cherry blossoms, the concept for this pro… continue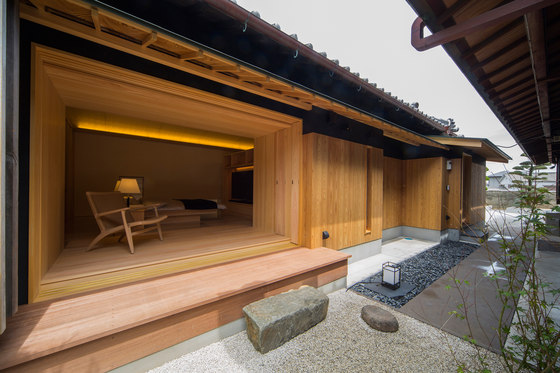 This beautiful 1920's Melbourne home had been renovated in the 70's & after years of being a family holiday home in the Dandenong Ranges, was bought by a new family with young children as their family home. It had great bones but was tired & worn out after almost 40 years of use. It needed cosmetic love to bring back its former glory. It needed better lighting, some key furniture pieces & better & stronger colours to offset the interiors in their lush green garden setting. Drawing Room Architecture started by adding a palette of warm, earthy & energising new paint colours to every room. Furniture fit for an active young family was added & custom new joinery was built to add storage & new play spaces for the children. The existing windows were large & plentiful giving an ample amount of natural daylight however considered internal & external lighting was needed to balance the scale of the rooms with the tasks of the occupants. New cork floor boards soften & add texture to the be… continue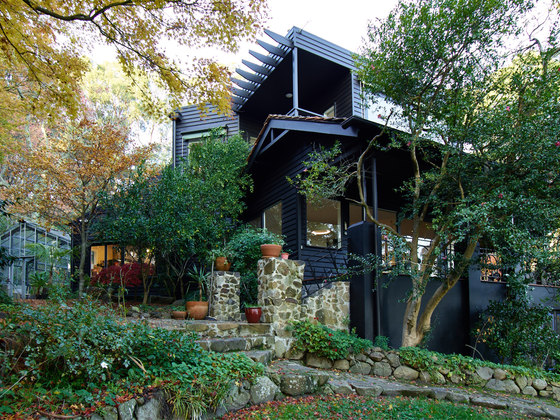 © Laurian Ghinitoiu
This article was originally published on July 22, 2016. To read the stories behind other celebrated architecture projects, visit our AD Classics section.

The New Museum is the product of a daring vision to establish a radical, politicized center for contemporary art in New York City. With the aim of distinguishing itself from the city's existing art institutions through a focus on emerging artists, the museum's name embodies its pioneering spirit. Over the two decades following its foundation in 1977, it gained a strong reputation for its bold artistic program, and eventually outgrew its inconspicuous home in a SoHo loft. Keen to establish a visual presence and to reach a wider audience, in 2003 the Japanese architectural firm SANAA was commissioned to design a dedicated home for the museum. The resulting structure, a stack of rectilinear boxes which tower over the Bowery, would be the first and, thus far, the only purpose-built contemporary art museum in New York City.[1]
Which bedding is best to use on your bed? There are several options available when it comes to choosing the right bedding for your bed. In order to make the right decision, you need to compare different beddings. For any bed to be comfortable, you need different things in place. For instance, you should have a good bed.
The bed should be covered by a quality mattress among other accessories. You should as well buy the right pillow which can support you. There are different types of mattresses and pillows in the market. You need to choose the pillows and mattresses carefully so that you can make the right decision when trying to make the bedding comfortable. Some of the items you need to buy so that you can make your bedding comfortable include the following:
Quilts & Coverlets
The quits and coverlets come in different colors and designs. They are also made out of different materials which make them very comfortable. If you would like to make your bed comfortable, you need to order the right sizes. For big bids, then you can order one which is available in a large size so that you can enjoy your sleep. The quilts can be easily washed by hand or machine depending on the materials used. You will always enjoy keeping them clean which will make you enjoy the sleep.
Whatever you're trying to showcase, investing your time, money and effort into putting together an online portfolio can seem like a hugely daunting task. However, there are certainly enough great reasons out there as to why you should invest in a strong portfolio, whether it's to help you get ahead with your career or to establish yourself as an artist or model. Failing to have a portfolio website set up could mean that you are holding yourself back in the professional or creative world; experts, employers, and potential buyers will have a harder time finding you than they would when it comes to your competition, who may already have a strong portfolio set up. Without further ado, we've put together some of the strongest and most compelling reasons to get started with investing in an online portfolio for your professional or creative career.
#1. Be Seen:
No matter what industry you are in, others will want to see the kind of work that you want to offer. Others will want to be inspired; maybe they are looking for somebody like yourself to hire or trying to find work like yours in order to purchase it. The long and short of it is that your portfolio site provides others with a gateway into your world and allows you to easily showcase your best work to the people to whom it means the most. If you don't put your work out there, then nobody will be able to see it, or your ideas.
One of the age-old battles that continues is parents yelling to their children to clean up their rooms. It happens day in and out and has been for many years. From the Saturday chore list to having guests come over, your child's room appears on the to do list over and over.
But, what if you could trust your child to keep their room clean and organized all the time? You can! In fact, we will provide you with some ideas and tips that can help you organize your child's room and keep it that way.
Look at the room from your child's perspective.
You likely look at your child's room from your perspective and this can lead to creating an organized room that works for YOU and NOT your child. Take a moment to look at your child's room from their view – yes, this means getting on your hands and knees or sitting on the floor.
To be able to organize your child's room and help keep it organized, you need to make sure the organizational and storage solutions you put into place work for them. Here are some more pro tips that can help: https://www.storagearea.com/blog/5-must-have-organizational-items-for-your-home.html
As an avid gamer, you must have heard word going around about the prestigious gaming chairs. These are different from your regular chairs in that they offer more versatility and comfort allowing you to engage in your favourite gaming for hours without feeling tired or compromising your health.
Today, there exist numerous options that allow you to pick the chair that you think can cater to your needs best. If you are confused about the gaming chair to purchase, have a look at this https://www.gamingchair.com/best-gaming-chairs/  guide to help you make an informed decision.
If you are like most people, you may want to know the price of a comfortable gaming chair before committing to invest in the product. Truthfully, you can get a chair for as low as $50. However, if you are looking to get a quality chair that will serve you for ages offering you all the perks that a great gaming chair should extend, be prepared to spend anywhere from $200-$400.
This is the price range where you can expect to identify a gaming chair that that combines quality workmanship, excellent sitting comfort, top-grade materials, and hopefully a budget that will not dent your wallet too much. There are numerous factors that determine the price of a gaming chair such as:
"Great cities have a great park"—that's the mantra of our visionary client group behind 
Bonnet Springs Park
 in Lakeland, Florida. For more than 30 years, the 180-acre site has gone through a number of attempts to establish its best use. At long last, in early 2015, David Bunch, a longtime Lakeland Realtor, and his wife Jean presented a bold concept to philanthropists Barney and Carol Barnett, generous benefactors who care about the future of Lakeland. Their vision?
© Joonhwan Yoon
Architects: JMY architects

Location: Ulju-gun, South Korea

Design Team: Wihwan CHOI

Area: 339.69 m2

Project Year: 2017

Photographs: Joonhwan Yoon

Collaborator S: MOA Structure

Collaborator M: HL Consulting Engineers

Collaborator E: Daewon Pobis

© Joonhwan Yoon
Ganjeolgot
Master bedrooms should be beautiful, warm sanctuaries. Regardless of size, they should be functional and conducive to rest but also stylish and inviting. Whether you're re-decorating your master bedroom or you've just moved, and you're starting from scratch, we have some ideas to get you started.
Make the Bed the Center of Attention.
Your bed is, of course, the most important piece of furniture in your bedroom. Ensure it stands out. Opt for visually striking headboards and footboards in bold colors or interesting prints. A classic four-poster bed is perfect if you have high ceilings. If your room is painted in muted tones, an eye-catching bed is even more important. You also need to source the perfect mattress. Be sure to test as many options as possible before you decide. A high-quality mattress will last a long time, so you need to sure it's the one you want.
Source 100% Egyptian Cotton Bedsheets
You'll want that bed to be covered with sheets of the highest quality. It doesn't get much better than authentic Egyptian cotton bedsheets with a high thread count. They are soft, comfortable and long-lasting. Some manufacturers may claim their sheets are Egyptian cotton but really only include a small percentage. To ensure you don't get duped, look for the logo featuring a cotton plant with a black triangle and make sure you feel the material and look at it carefully before buying.
Most people hate cleaning. Whether it is vacuuming or window cleaning, we look at cleaning as "time badly spent." The good news is that the technology is on our side, continually pushing the boundaries of comfort and convenience by designing and manufacturing time-saving and smart cleaning devices.
If you hate cleaning and prefer reading or watching TV over vacuuming and washing dishes, perhaps you should hear what we have to say and go through the devices we presented below.
1. Robotic Vacuum Cleaners
Robovacums are on the rise, for obvious reasons. For starters, they are autonomous and clean your home without your interference. Robotic vacuums are also easy to use, requiring that you regularly empty the dustbin and program them according to your preferences.
They are also quite good at their job (vacuuming), featuring great brush rolls and side brushes. Some even specialize in pet-hair cleaning, like the roomba pet-hair series. 
High-end models will also feature excellent navigation technology, surface sensors, extra durable batteries, protective bumpers, and so forth. Furthermore, a lot of robo-vacuums feature multi-surface cleaning technology, which allows them to clean all types of surfaces.
Have you done your furnace maintenance this year? If not, it's time to get on it. There are plenty of basic things you can check and do yourself, including checking and vacuuming the burner, cleaning the pilot, and cleaning the blower. For more serious problems, it pays to call in a technician for furnace maintenance to prevent a breakdown. Anything you can do to prevent a breakdown is worthwhile.
A furnace breakdown can be a serious problem and they tend to increase during a cold snap. When temperatures plummeted below 5 °F (-15 °C) in Ontario, furnace technicians reported a 24 percent increase in service calls for that stretch of winter. Doing regular furnace maintenance helps prevent such breakdowns.
What are the most common causes of furnace breakdowns and problems? Here's what you should look out for.
Ignition Failure – If your furnace uses electrical ignition, common on both electric and modern gas furnaces, ignition failure prevents the heating cycle from ever starting. A short visit from a furnace technician should sort out this problem easily.
For most of us, gardening is a hobby and something we like to spend both for leisure and for our homes to look nice in the eyes of the public. This involves the careful care of the lawn, trimming well, cleaning the weeds of the flower beds, throwing the leaves and branches fallen from the trees and plants that are part of our garden.
We all use junk removal service to clean our kitchen as well as home, but our garden also brings the necessary waste that is no longer needed, such as dried leaves.
Impacts of green waste on the environment
Quite often you notice there are people who throw this green waste from our gardens into the garbage cans in the neighborhood. These bunkers essentially collect all possible waste directly from those that are not recyclable. Often they reach the landfills and are therefore added to the landfill and create pollution of the soil, water, and air and disturb the environment.
There are many things I do during a typical day – designing "stuff" is just one very small portion – but I still consider myself a designer more so than a project architect. Since I work at a smallish firm, everyone wears many hats and nobody has just one task or label. To be considered a designer just means you need to think about the design of everything – and I mean everything. Not everything I do is BIG picture design – compared with the overall time spent, very little of it is – but I consider the creation and coordination of the details of every project integral to the process that yields a successful design.
[Note: If you are reading this via email, you will have to click here to access the on-site audio player] 
How do you define Designer? [0:45 mark]
Whenever a person remodels or rebuilds a house, he would always consider upgrading those things which are needed to be upgraded and replacing those which are not needed anymore in the house. Everyone would make a list and set to consider everything and decide about which thing is going to remain in the house and which is not and even on the things which are needed to be upgraded.
Electrical Wiring
You should always think about upgrading your electronics. I know that most of the people would upgrade their electronics very often but you should also upgrade and maintain your electrical wiring.
Electrical wire repairing and upgrading should be kept in mind and it should be done at regular intervals. Sometimes it may happen that the wiring might not be damaged or unsafe but at long term, it could be bothersome for you. So, it would be better if you do it earlier itself.
When you are remodeling your home, you should get in touch with licensed electricians to know about the status of your electrical wiring. Listen to what they have to say about it and if the electrician advises to change or repair the electrical wiring system in your house, then you should definitely consider it.
Do you know water heating can make 25% of your energy bills?
If your energy bills are through the roof, it's possible that one of your appliances needs replacement. Water Heater System is among the most important devices, and they do get cranky. But if it's more of a headache than convenience, then better replace it.
Following, we are mentioning some common mistakes people make when replacing their water heater!
Not Comparing
Don't always rely on your plumber's word, do your search.
Plumbers tend to suggest a similar replacement because they are easy to install. They don't care whether another system will serve you better or not.
Therefore, take your time, and independently view different hot water systems. Carefully review their specs and price. Compare their advantages and disadvantages. It will help you make a well-informed decision. Look for these three things:
These things dominate your upfront and ongoing costs. Remember, hot water consumes 25% of your energy budget. So, focus on low ongoing costs.
Avoid Overpaying
Most of us buy our hot water system through the plumber.
It sounds good, but we end up overpaying. Therefore, it's important to compare prices ourselves and keep the labour charge separate. Fortunately, you can now compare prices of different hot water systems online.
This will give you a better idea.
© Niveditaa Gupta
Architects: Vir.Mueller Architects

Location: New Delhi, India

Lead Architects: Pankaj Vir Gupta, Christine Mueller

Project Team: Arjun Sara, Donna Ryu, Kapil Shokeen, Monisha Nasa, Prashant Singh Hada, Sonakshi Gambhir

Area: 392.0 m2

Project Year: 2018

Photographs: Niveditaa Gupta

Structural Engineer: Japan Shah Consulting Engineers

Mep Engineer: Jhaveri Associates
[ By
Steve
in
Architecture
&
Cities & Urbanism
&
Public & Institutional
. ]
Sweetwater playground at the former Domino Sugar Refinery in Brooklyn, New York is a colorful children's fun park that's dandy as old-fashioned candy.
A park with good taste? It's more likely than you think thanks to locally-based artist Mark Reigelman and what used to be the world's largest sugar refinery. A Williamsburg waterfront icon for the better part of two centuries, the old Domino Sugar Refinery has been transformed into Domino Park boasting a site-specific play environment called Sweetwater: "the sweetest playground in New York City."