archiWEB 3.0
Updated: 4 hours 9 min ago
Owning a pet is a full commitment, maybe even more than romantic relationships. We usually spend on food and medical needs for our pets, but it doesn't stop there. Just like preparing for a baby we buy all the possible equipment or furniture for them like cribs, walker, play pen etc. Our pets also need to feel at home and buying them furniture can help them adjust to living with us. It is very important as some furniture is essential for our pets' well-being.
Here are the five of the most important and beloved pet furniture in the market.
Whether you have a dog or a cat, maybe even a pot belly pig, these adorable pets need a spot to rest and sleep. Some of us might want them to sleep beside us on the bed but it's always better to give them an option. There are many things that you need to consider when buying your pets' bed; size, material and design are some of the things to keep in mind.
Masellahütte . Dafins Marte Marte Architects Open Air Exhibition.
© Humaus Hertha
Architects: bergmeisterwolf architekten

Location: 39042 Brixen, Province of Bolzano - South Tyrol, Italy

Architect In Charge: Gerd Bergmeister, Michaela Wolf with Christian Schwienbaher

Area: 722.0 m2

Project Year: 2008

Photographs: Humaus Hertha

© Humaus Hertha
Text description provided by the architects. A new office corpus was added to the existing shop floor planned in the 1960s by othmar barth for his company. The barth company is well-known for their high-quality craftsmanship and we also work together on a different construction project.
house A / shop B . Kyoto Yoshinari Kimura + Naoko Matsumoto | Kimura Matsumoto Architects . photos: © shinkenchikusha . + A+U A home and shop in an area just to the north of the center of Kyoto where such mixed use is very common. Given the environment surrounding the property, the building opens …
Continue reading

Kimura Matsumoto
© Seyed MohammadHossein Sadatian
Architects: Admun Studio

Location: Tehran Province, Tehran, District 7, Emam Ali Hwy, Iran

Architect In Charge: Shobeir Mousavi, Amirreza Fazel, Mehdi Kolahi

Design Team: Masoud Almasi, Farshad Habibi

Area: 130.0 m2

Project Year: 2017

Photographs: Seyed MohammadHossein Sadatian, Mehdi Kolahi

Construction: Admun Studio

Construction Supervisor: Babak Moshrefi, Mahdi Mousavi

Construction Team: Mohammad Ehsani, Omran Savaran, Majid Jahanmehr, Behrooz Elahi

Structure Consultant: Soheil Asef

Mural Painting: Davood Khalili

Client: BoshraFilm Art and Culture Institute

Project Team: Abolfazl Khamsieh, Niousha Ghasem

Budget: 37000 $
Un ore dock es un muelle largo que incorpora una estructura para vehículos en la parte superior. Esta peculiaridad permite que se incorporen tolvas de descarga que conectan a los vehículos con los barcos atracados en el muelle. La mayor parte de este tipo de muelles son lo que comúnmente se denomina "cargaderos de mineral" aunque en ocasiones sirven de descarga de grano. Estas construcciones, formaban parte, junto a la gran red ferroviaria norteamericana, de un complejo sistema comercial. Al realizarse casi todas en un periodo corto de tiempo, y formando parte de una red superior, su estructura constructiva es pareja.
Los muelles de Duluth en Minnessota, son un ejemplo de este tipo de construcciones. Construidos en 1884, los muelles operaban con hasta 284 tolvas. Poco a poco se incrementaron en número de puntos de carga, en función a la capacidad de carga de los barcos, pasando de 2500 toneladas iniciales a 6400 en 1898 y 15000 en 1938.
La estructura inicial de los muelles de Duluth era de madera, una estructura de entramado pesado. A medida que aumentaba la demanda, las estructuras se quedaban obsoletas, así iban poco a poco siendo sustituidas con la cosntrucción de nuevos muelles de acero y hormigón armado. En general el entramado tanto en madera y acero, se compone de pórticos muy arriostrados. En hormigón, los pórticos igualmente se mantienen, pero se arriostran mediante la rigidización de la base. Con la construcción de otros muelles a orillas del lago, comenzó su decadencia.
El puerto natural de Menominee, en la zona este de Escanaba, Michigan. Los primeros muelles fueron construidos en 1865. Y ya en 1884 los muelles y las vías de tren que llegan a ellos se encuentran a pleno rendimiento. En este caso los trenes permiten en transporte de mercancías y también de personas, aunque fueron planteados inicialmente como vías de transporte de mineral, especialmente, acero.
La longitud y capacidad de los muelles corresponde a la capacidad de los barcos a los que serían capaces de servir. Cuanto mayor son los barcos, más altas han de ser las tolvas, lo cual implica reconstruir constantemente el muelle. La demanda de acero hizo que los muelles se ampliasen en longitud. El desarrollo y ampliación de estos muelles llevaron al declive a los muelles de Duluth.
Los muelles de Marquette, se encuentran en la Upper Peninsula de Michigan. Construido en la década de 1850 debido al descubrimiento de un gran yacimiento de hierro a cargo de William A. Burt. Este descubrimiento fue posible debido a la perturbación de algunos objetos como los relojes, debido a los campos magnéticos.
Comenzó la construcción de muelles, con cierta prisa, a principios de los 1850, pero fue en 1857 cuando se construyó el primer muelle específico para la explotación minera. La explotación minera no cesaba de crecer, y sólo se vio afectada por la Guerra Civil Americana. En 1862, se construyeron más muelles, incluyendo uno de madera. La estructura con la que se realizan los muelles es análoga independientemente del material con que se construya: se trata de pórticos muy seguidos y robustos que se arriostran en sentido perpendicular. Interiormente y, para distribuir correctamente las cargas horizontales del tablero superior, se disponen tornapuntas que mueren en los soportes verticales garantizando también la rigidez en la parte superior y así poder resistir cargas dinámicas.

© OUYANG Yun
Architects: C.DD

Location: Foshan, Guangdong, China

Chief Designer: HE Xiao-Ping, LI Xing-Lin

Project Team: YU Guo-Neng, WU Meng-Long, HE Liu-Wei, ZENG Xiang-Ru

Design Implementation: CAI Tie-Lei

Construction Company: Ji Mu Engineering

Area: 750.0 m2

Project Year: 2015

Photographs: OUYANG Yun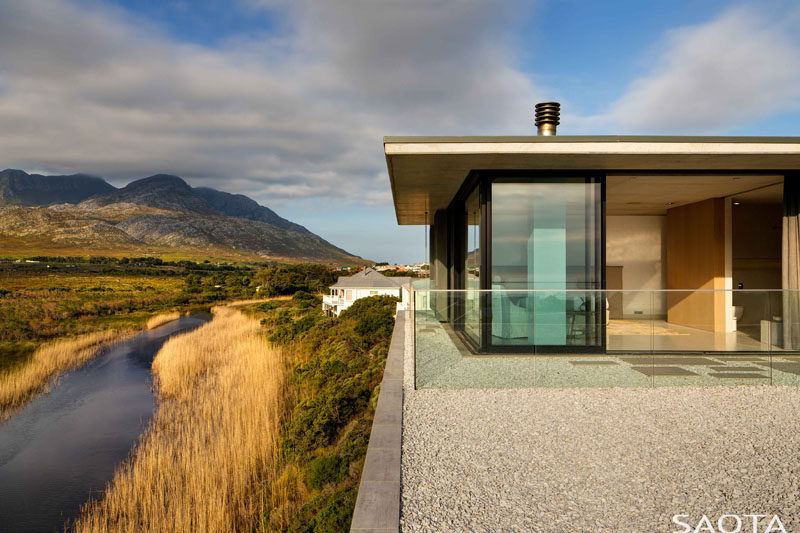 Courtesy of Yoon Space Design
Architects: Yoon Space Design

Location: Sujeong-gu, Seongnam-si, Gyeonggi-do, South Korea

Architect In Charge: Seokmin Yoon

Area: 494.72 m2

Project Year: 2016

Other Participants: Dongsimwon architectural firm

Sketch
Text description provided by the architects. Making the Unexpected with Mass.
© Tatjana Plitt
© Tatjana Plitt
Text description provided by the architects. Once a dark and segmented 1970s double brick home, Kew House underwent a complete internal overhaul and external update to suit the modern living styles of its young family.
Skogfinsk Museum . Svullrya   "RIA" er et levende Norsk Skogfinsk Museum som er konstruert ut ifra tre sammenhengende volumer i tre. De er utformet som en konstruksjon der dets utrykk og stedlige plassering refererer til sin kontekst, skogfinnenes historie og i sin organisering svarer på programmets ønske om et universelt bygg. Tilsammen skaper volumene …
Continue reading

RIA entry
From a medieval building turned into a community hall to an auditorium constructed from 150-year-old ruins, here's a look at 10 of the best church conversions to feature on Dezeen. Read more
[ By
SA Rogers
in
Destinations & Sights
&
Travel
. ]
An island in France populated by 'living machines' that seem to be torn straight from the notebooks of Leonardo da Vinci, Les Machines de L'ile has delighted visitors since 2007, and now they're embarking on a quest to complete the largest hanging garden since ancient Babylon. The unusual artistic and cultural project is set within old shipyards surrounded by two branches of the Loire River, known for its massive mechanical elephant, 82-foot-high Marine Worlds Carousel and a gallery of the illustrations, models and films that went into the making of their machines.