archiWEB 3.0
Updated: 3 hours 35 min ago
This captioned movie shows workers unfolding a flat-pack MADI – a modular, earthquake-resistant house that the manufacturer claims can be constructed within six hours. Read more
Gymnase du lycée Ernest Ferroul . Lézignan-Corbières Passelac & Roques Architectes . photos: © KEVIN DOLMAIRE . + divisare Gymnase du lycée Ernest Ferroul pour une utilisation par les élèves du lycée et par les associations sportives de la communauté des communes. Bâtiment comprenant une halle de sports avec une tribune 150 places destinée à …
Continue reading

Passelac & Roques
Intervención de emergencia en el Tinglado nº2 del Puerto . Valencia rellam. fotos: © Germán Cabo El tinglado nº2 del puerto de Valencia, construido en el año 1911 a partir de un proyecto del ingeniero José María Fuster, es un edificio particularmente significante. Durante sus cien años de existencia, y debido a unas condiciones espaciales …
Continue reading

rellam
[ By
WebUrbanist
in
Design
&
Furniture & Decor
. ]
These designs convey all of the diverse wonder of coral reefs without having to walk along an actual sea floor (and presumably slice open a foot in the process.
Porto-based Portuguese textile artist Vanessa Barragão crochets, weaves and latch-hooks her textiles with inspiration from coral, algae and fungi, often from exotic, remote and underwater environments.
Apple has announced plans to build a new campus in the United States, in addition to the recently completed Apple Park, as part of a major investment and job creation strategy. Read more
Gustafson Porter + Bowman: Marina One is an innovative, highly sustainable, high-density building complex in the Marina Bay financial district which upholds the city's ambition to become a "City within a Garden". Comprised of four-towers arranged around a central courtyard, the scheme integrates an extensive planted landscape into the fabric of the building. Gustafson Porter […]
El pasado 13 de diciembre invitamos al estudio.entresitio a presentar en los encuentros que sobre el tema Espacio y Materia estamos desarrollando en Finsa21 tres obras suyas que, paradojicamente, eran un único proyecto.
Sus integrantes, los arquitectos María Hurtado de Mendoza, César Jiménez de Tejada y José María Hurtado de Mendoza, explicaron el método y la alteración del mismo que generó esta oportunidad tan especial de poder hacer variaciones construidas de un único planteamiento.
WLA recently had the opportunity to speak with Nadia Amoroso. She is a faculty member at the University of Guelph, Department of Landscape, School of Environmental Design and Rural Development. She was the Lawrence Halprin Fellow at Cornell University and the Garvan Chair Visiting Professor at the University of Arkansas. She holds a PhD from the Bartlett School of Architecture, UCL, London, and degrees in Landscape Architecture and Urban Design from the University of Toronto. She specializes in visual communication in landscape architecture, digital design, data visualization and creative mapping. She also operates an illustration studio, under her name, focusing on landscape architectural visual communication. She has written a number of articles and books on topics relating to creative mapping, visual representation, and digital design including, The Exposed City: Mapping the Urban Invisibles, Representing Landscapes: Digital, and more recently Representing Landscapes: Hybrid.
WLA | What made you want to become a landscape architect?
Nadia | I was originally interested in architecture, but visited a local University that offered a landscape architecture program, and I found the projects really interesting. I was intrigued as the design improvements of the outdoor spaces. I looked into the program more and researched what landscape architects do, and after that, I was hooked.
Italian architecture office 2A+P/A has bought an Ettore Sottsass painting to life to create a black barrel-roofed pavilion for an architecture festival in Orléans, France. Read more
A beach house wrapped in a pavilion of slatted pine wood on the coast of Chile by LAND Arquitectos has uninterrupted views of the South Pacific.  Read more
[ By
SA Rogers
in
Design
&
Guerilla Ads & Marketing
. ]
Millions of years from now, will aliens visiting an earth free of humans (or future humans, on the off chance we survive that long) find a puzzling 'amber' fossil of a 1979 Mercedes-Benz G-Wagen? Of all the cars that could have been chosen to preserve as a time capsule, most people probably wouldn't have chosen this one, yet here we are. The automaker has commissioned an incredible sculptural exhibition for the North American International Auto Show in Detroit (NAIAS) made of 44.4 tons of synthetic resin.
Fire Station and Music Hall . Termeno Sossio De Vita . Giuseppe Parisi. renders: © Giuseppe Parisi The project explores the essentiality of the reinforced concrete structure as a strong link between the internal and external spaces, the existing buildings and the surrounding landscape characterized by mountain profiles and important vineyard cultivations. The openings, the …
Continue reading

De Vita . Parisi
Best Booths – Marian Goodman, FIAC 2016 / MoMA . 2017 + the goma Si bien el cuestionamiento de la crítica artística es fundamental en la obra de Garrido, no debe tomarse únicamente en un sentido unidireccional hacia el mercado del arte. Es obvio que cabe cuestionarnos si el modelo económico de la feria de …
Continue reading

Cristina Garrido
Miller Maranta . render: © P O N N I E I m a g e s
The project involved the insertion of a new 3-bedroom residence as a second dwelling on the lot, adjacent to an existing garage on large block in Carlton North. The block itself was a complex site with the existing garage and studio building to one edge surrounded by lane ways, a large double-storey heritage terrace house facing the principal street front to the eastern side and the remaining land an overgrown, rambling garden that was too large to be properly maintained by the owner and lacked connection to the main house. The owner wanted a simple, flexible and sunlit home, in which she could remain living alone happily and safely well into old-age, to be inserted into the unused garden space. The new home had to sit alongside the existing studio/garage building, allow for direct entry to the second dwelling from the lane way plus maintain access into the garage and to the studio above whilst retaining sunlight in the existing studio room, where the owner worked. A keen gardener, continue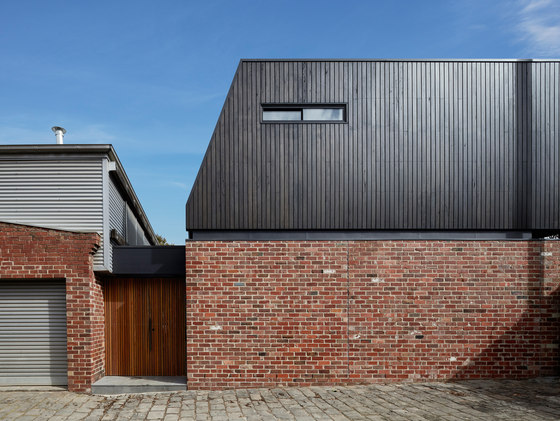 For the Richview Residence, Studio AC was tasked with creating a concept that maintained an open layout while housing as much storage as possible for this growing family. The Richview project was a full interior renovation to reimagine the function of a home from its 50-year-old layout, broken up into small rooms, to its modern day counterpart, an open, functional and intimate layout. This project presented itself first as an essay in re-definition, in the sense that the existing layout remained essentially in-tact. The design challenge was how to open the spaces up and artfully choreograph movement between them. This was achieved by introducing a linear organizing element in the form of a 'support spine' that contains storage, structure, mechanical, plumbing…. heck even the kitchen sink! To allow movement across the plan, openings in this spine are marked with grand 12" wide white oak flooring that switches in orientation and runs up the walls and ceiling, celebrating that moment.… continue