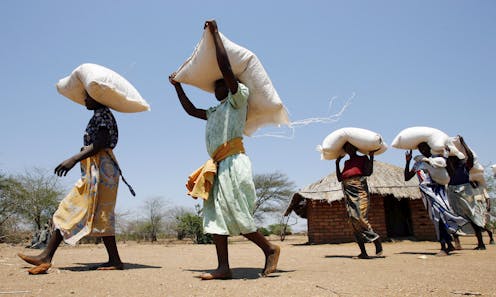 For the third year in a row hunger is rising across the world. And, as a recent report by the United Nations' Food and Agriculture Organisation shows, the situation is worsening in most regions in Africa. Almost 21% of the continent's population of 1,216 billion is undernourished.
Many factors drive this trend. Among these are rising population growth, conflict and poor governance. Severe weather conditions and climate change also play a role. This leads to food insecurity: a state of deprivation ranging from starvation through severe and constant hunger to deficiencies in vitamins and minerals. It's rooted in poverty and inequalities that deprive people of the right to adequate food to meet their needs.
We reviewed whether the food security plans of 10 countries were aligned with the African Union's Malabo Biennial Review technical guidelines (which is related to agriculture and food security), the continent's Agenda 2063 and the Sustainable Development Goal targets. The ten countries were Benin, Burkina Faso, Cote d'Ivoire, Guinea, Guinea Bissau, Liberia, Malawi, Niger, Nigeria and Togo.