Ozmic World News ®
Updated: 3 hours 14 min ago
Egyptian President Abdel Fattah al-Sisi will visit Khartoum in October to seal several bilateral deals, Sudan's foreign minister said on Tuesday during a visit to Cairo, at a time of fraught relations between the neighbours.
Sudan banned the import of Egyptian farm produce last year over alleged use of pesticides and is in a longstanding dispute over territory in Egypt's south that Khartoum says is Sudanese.
For its part, Egypt fears Sudan will support Ethiopia in its bid to quickly fill a reservoir behind the mega-hydroelectric dam it is constructing on the Nile. Cairo is concerned the dam could wreak havoc on its sensitive water supply but Sudan has supported it because of its need for electricity.
"(Sisi's) visit will be to partake in the (bilateral) high joint committee and there are a lot of agreements that will be completed," Al-Dirdiri Mohamed said. He did not give a date for the visit or details of agreements that may be signed.
SUGGESTED READING:Sudan protests Egyptian Ramadan TV series that is tackling terrorism
Sisi swearing in for June 2
Meanwhile, state-owned Egyptian daily Al-Ahram newspaper reports that Sisi will be sworn in for a second term on June 2.
Sisi won a second term with a landslide 97% during the March presidential election. Sisi's opponent was little known El Ghad party chairperson, Moussa Mostafa Moussa after other potentially strong contenders withdrew from the race citing state intimidation.
Al-Ahram also reports that this swearing in will be the first held in parliament since former ruler Hosni Mubarak began his fifth consecutive term in 2005.
Sisi is credited with stabilising Egypt following the tumultuous years post the 2011 uprising that toppled Mubarak, while his critics fault him for narrowing the democratic space and limiting freedoms of expressing alternative views.
Ethiopia's attorney general has asked the country's High Court to drop charges against a prominent journalist and two foreign based media organisations.
Criminal charges against Berhanu Nega, leader of Ginbot 7 (G7), as well as Jawar Mohammed, executive director of Oromo Media Network (OMN) and a prominent Oromo activist will be duly dropped.
The two were accused along with prominent Oromo opposition politician, Dr. Merera Gudina of leading the 2015 anti-government protests.
The attorney general's office has also said charges against two foreign based media organizations, OMN and ESAT were dropped. The institutions had been charged under Ethiopia's anti-terrorism laws, accused of fuelling the protests by serving as a communication tool for terrorist organizations such as Oromo Liberation Front (OLF) and Patriotic G7, both outlawed under Ethiopian laws.
State broadcaster, Fana BC reported that the High Court subsequently accepted the attorney general's request.
Ethiopia's political reforms
The actions of the attorney general are part of wider reforms by Ethiopia's ruling party that have included release of political prisoners, change of guard at the country's highest political office and reaching out to opposition political parties.
SUGGESTED READING:Ethiopia to close notorious prison and free all political prisoners
Up to 14 political parties including the ruling Ethiopian People's Revolutionary Democratic Front (EPRDF) coalition, are scheduled to meet on Wednesday, as part of the efforts to widen the political space in the country.
Fana BC reported that the parties have so far agreed to amend some articles of the anti-terrorism law and discuss electoral reforms.
The new prime minister, Abiy Ahmed recently welcomed back representatives of the exiled opposition party, Oromo Democratic Front (ODF),
after they agreed to return home to participate in shaping the country's political reforms.
Nigeria's "underdog" football squad need to play together and not as individuals, captain John Mikel Obi said, with the team acknowledging they face a tough group stage at the World Cup in Russia next month.
"We have to make sure we play together as a team which is the most important thing; no individual players," Obi told a media conference on Friday.
"No need to think that we are favourites, we're still underdogs, so we have to go as underdogs in this World Cup and hopefully we can get good results," he said.
Nigeria coach says team has 'enough experience'
Nigeria, known as the Super Eagles, are ranked 47th by FIFA and face Argentina, ranked fifth, Croatia (18) and Iceland (22) in Group D.
"We have a very tough group," said Nigeria's coach, Gernot Rohr.
"It will be a surprise to come out of this group for a lot of people but perhaps not for me because I believe in my team and I think that my team, even though it's young, has enough experience."
Nigeria Vs Argentina: Will the Super Eagles finally overcome a familiar foe?
Obi added: "We want to do well, we want to do better than ever, we want to go one step further."
Nigeria were held to a 1-1 draw by against Democratic Republic of Congo in the Niger Delta city of Port Harcourt in a friendly game on Monday ahead of the World Cup.
The Super Eagles also have friendly matches lined up against Poland, Serbia and England.
Mamoudou Gassama, 22, arrived in France from Mali and stayed as an illegal immigrant till last weekend when he scaled a Paris building to rescue a 4-year-old.
Then there was a social media blitz of his about 30-seconds heroics. Now he is due to take post as a fireman with the Paris Fire Brigade and is in line to be granted French citizenship.
Saturday, May 26: Saved a baby from fourth floor of a Paris flat
Sunday: Video clip of his saving act goes viral especially on Twitter, called and congratulated by Paris mayor.
Monday: Meets French president Emmanuel Macron, gets certificate and medal. Offered job, nationality
Tuesday: Goes to familiarize with new work environment, "I'm going to do everything I can to get there," he said during his visit to the Champerret barracks.
? [Photos] ? Mali 'spider-man' meets Macron: Lands job and French citizenship
That one act of bravery has earned him a phone call with Mayor of Paris, Anne Hidalgo and a meeting at the Elysee Palace with President of France, Emmanuel Macron.https://t.co/TQGVZXWhIL pic.twitter.com/mqqceFOK0E— africanews (@africanews) May 28, 2018
Photo credit: @PompiersParis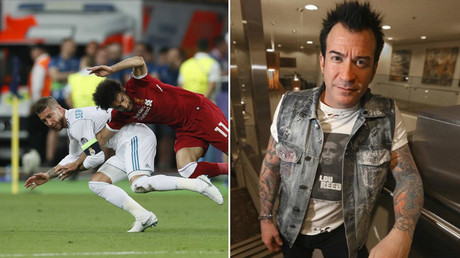 Sergio Ramos' foul on Mo Salah during the Champions League final broke the hearts of Liverpool fans, but reaction to it to spread well far from the football world, and has even reached the world of mixed martial arts.
Read Full Article at RT.com
By Brandon Turbeville, Natural Blaze The US Department of Justice, once considered the office that would protect the American economy from the fatal cancer of monopoly has now officially become the...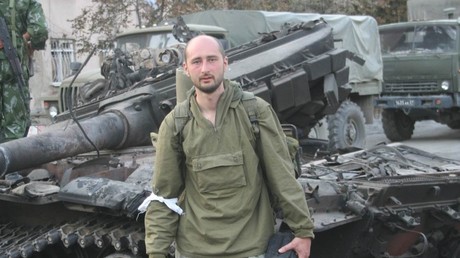 Arkadiy Babchenko, a Russian citizen and journalist living in Ukraine, has been killed in the Ukrainian capital.
Read Full Article at RT.com