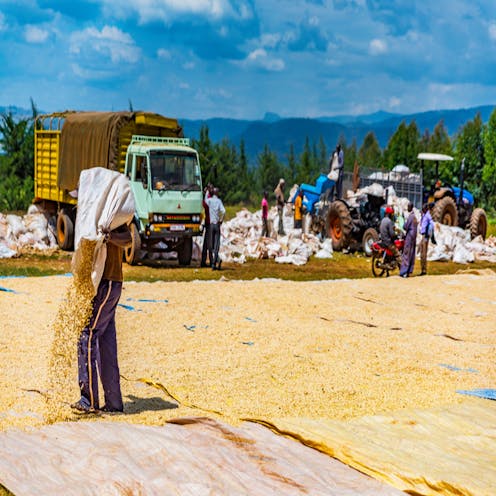 The United Nation's Food and Agriculture Organisation estimates that around a third of food is wasted globally every year. In Africa, that number can be as high as 50%. This is of major concern given the continent's population increase.
The problem begins the minute farmers have harvested. This is because choosing when to harvest, as well as storage, are big problems. In this week's edition of Pasha, Jane Ambuko, a senior lecturer and head of horticulture at the University of Nairobi, takes us deeper into the issue of post harvest losses and why they're such a big issue.
---
Read more: Why reducing post-harvest losses is a priority for Africa
---
Photo: African farm worker is scattering corn kernels from a gunny bag, onto tarpaulins, for drying in the sun. Other farm workers and machinery are in the background. By Jen Watson. Shutterstock
Music "Happy African Village" by John Bartmann found on FreeMusicArchive.org licensed under CC0 1.
Sounds "Kenya roadside market" found on Youtube licensed under Creative commons.