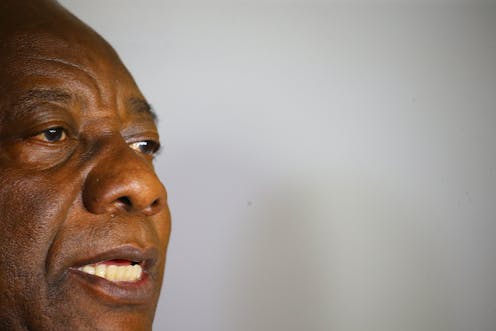 Cyril Ramaphosa's rise to power has been greeted enthusiastically by most South Africans. Their hope is that the new president represents a leadership cohort within the governing African National Congress (ANC) that's capable of reversing the toxic legacies of Jacob Zuma's presidency.
Under Ramaphosa, the government is proving forceful in beginning to dismantle Zuma's patronage networks in both party and state, determined in battling corruption. The new administration is also offering hope that South Africa can pursue a more viable economic trajectory.
Yet the Ramaphosa moment is far from being a new beginning.
First, much of the momentum behind Ramaphosa's assault on corruption comes from fear in party ranks that the ANC is facing the very real prospect of losing its majority at 2019's general election. The loss of control over three major metros in the 2016 local government elections came as a great shock to many in the party. The ANC had become complacent about maintaining itself in power.
This was despite extensive evidence – accumulated over five democratic general elections – that the ANC's electoral dominance was being eroded by a mix of enlivened opposition. It came in the form of a more racially diverse Democratic Alliance (DA) and the Africanist populism of the Economic Freedom Fighters (EFF).